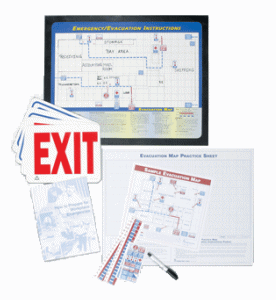 Emergency evacuation is the immediate and rapid movement of people away from the threat or actual occurrence of a hazard.  Plans can range from fire to bomb threats.  Emergency safety depends on proper training.  It's important that the entire staff know what to do in the event of a fire or other emergency.  Evacuation plans are not just for fires, either, it's important to have a plan for any emergency.
If you require more fire exit signs for your classroom right away, just follow the link, print and laminate.  Fire Exit Signs
The Board recognizes its responsibility for safeguarding the lives of staff and of the children entrusted to them during school hours. Furthermore, the Board believes that emergencies are best handled when prior plans are made and all relevant parties are aware of expected procedures.  Please refer to the Policies and Procedures section for all emergency measures.
DEFINITIONS:
Critical Incident Response refers to necessary action to be taken when a serious situation poses a threat to the safety of students or personnel.  Critical incidents are desgnated as:
Level 1 (e.g., a fight)
Level 2 (e.g., major fight, bomb threat, intruders, chemical/biological, suicide, medical, nuclear, fire, natural
disasters)
Level 3 (e.g., extreme crisis situation such as automatic weapons)
Lockdown refers to the securing of a school workplace when there is a major incident or threat of school violence within the school or in relation to the school.
Hold and Secure refers to the securing of the exterior doors when there is an ongoing situation outside and not related to the school (e.g., a bank robbery occurs near a school but not on school property).
Shelter In Place refers to the protection of occupants from an external situation such as a chemical spill, blackout, explosion, or extreme weather condition.  In this situation, it would be necessary to keep everyone at the school.
Staged Evacuation refers to a priority action which systematically removes all personnel from a school/workplace.
Primary Zone Schools (Nuclear) refers to schools that fall within a 10 km radius of a nuclear site (St. Anthony's, Chalk River, St. Mary's, Deep River).
Nuclear Emergency Preparedness Plan refers to a systematic plan of action for a nuclear incident for schools located in the primary and secondary zones.
Crash Bag refers to a collection of prescribed items that would be useful in an emergency situation (e.g. first aid kit, safety blanket).
FIRE SAFETY
Fire is a combination of heat, fuel and oxygen
Remove any one of these three elements and the fire will go out.
ABC multi-purpose dry chemical powder forms a coating layer over whatever is burning and therefore separates the oxygen from the fuel.
The powder also reduces the heat and interferes with the chemical reaction combustion process.
Types of Fire
Extinguishers rated ABC multi-purpose provide the required protection for all of the Classes of Fires below.  All schools are supplied with an ABC multi-purpose extinguishers.
Fire Prevention & Protection
Know the location of the fire extinguishers and the type of fire each is designed to extinguish.
Know the school Fire Safety Plan and know locations of fire alarms.
Know the location of all fire exits and alternate routes.
Do not store flammables and combustible materials like furniture and chemicals in any boiler room or electrical room.
Where rooms have sprinklers, storage must not be piled higher than 18″ below the sprinkler heads.
All aisle ways, doorways and stairways must be kept clear of materials.  Hallways and stairways (including under stairs) in schools must not be used as storage areas.
Fire Extinguishers
LINKS: